Wireless audio is supposed to make our lives easier. Between the little Airplay andBluetooth speakers out there it does—Sort of. There are drawbacks. This home theater system is wireless audio the way it should be, but it'll cost you.
The Aperion Intimus 4T Summit Wireless Home Theater Speaker System is the most seamless and intelligent concept of its kind we've seen. The 5.1 channel surround sound system uses no speaker wire and configures itself automatically for the best sound. Rather than run cables from a central A/V receiver, the signal from you DVD player, CD player, etc feeds into a wireless transmitter from which it's beamed to the powered speakers. (Each speaker needs to plug into your house's power.)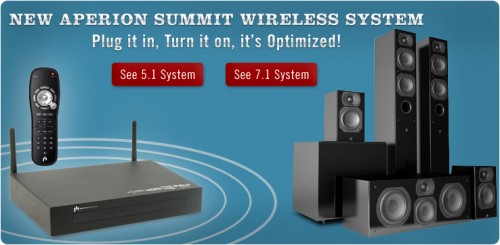 That's already more than what anything else offers, but what's really exciting is the system's brain. It detects where you've placed each of the speakers a room, and automatically beams the correct sound channel to each of them. No configuration necessary. And it gets better because using the system's included remote, it can detect where you are sitting, too, and it adjusts the levels of each channel so that it's perfectly balanced for your location.
Oh, and Aperion Audio promises banging sound. The system supposedly transfers uncompressed 24-Bit, 96 KHz audio wirelessly. That could be incredible, but we'll believe it when we hear it.
This Aperion system is so sophisticated it's practically self-aware, but of course, we have no idea how well it works or sounds. Maybe it'll flop, but it's nice to see wireless design pushing the boundaries. There are plenty of AirPlay speakers out there for your smartphone, thank you very much. But be warned, the innovation will cost you: The Intimus 4T Summit Wireless Home Theater System costs three grand and it's available for order now. [Aperion Audio]
Source from aperionaudio.com