Living Room Design
The living room was perfectly designed and you can't miss the ocean view. I love the rug and the linen furniture.
Kitchen Design
This is an edgy tailored white kitchen. Nice color on the cabinets.
Kitchen Island
This kitchen island is very intriguing with its "rough" countertop.
Space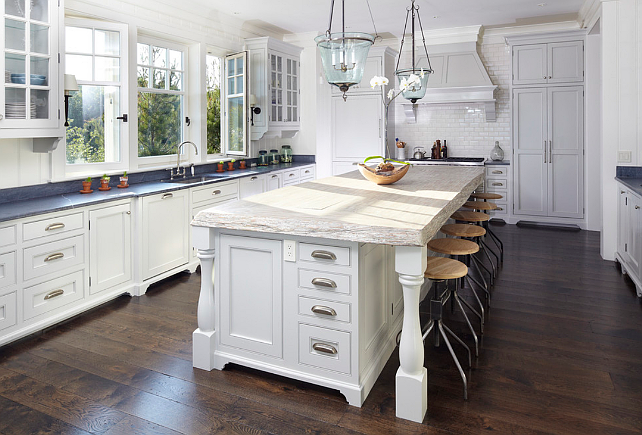 Lovely light fixtures and stools. I also like the kitchen legs.
Eating Area
The eating area has the best view in the house! I love how relaxed this room feels. Notice the window-seats!
Similar rattan chairs can be found here.
Family Room
The family room has a more masculine approach. The ceiling fan is from Architectural Fans.
Patio
The beautiful deck is stained in a natural color.
Outdoor Living Room
Maximize the space of your interiors by creating more outdoor spaces. Remember they deserve the same kind of attention, because you deserve the same kind of comfort, indoors our out.
Lovely patio furniture set and outstanding outdoor fireplace.
Staircase
The decor reminds you're in a beach house. A similar lantern can be found here.
Architecture
It's great to see when architects design beautiful details that enhance the architecture of a house. I love the windows and the shape of the staircase. Notice the millwork.
Hallway
I love window-seats in hallways. They add so much interest and of course, a place to daydream.
Kids' Bedroom
This bedroom has four attractive custom beds. The designer wisely used every inch of this room. This is a great idea for kids that always have sleepovers or for grandkids.
Sconces are from Circa Lighting and the fabric on the ottoman is "Santorini" by Trina Turk forSchumacher. Paint color is  Maritime White 963 by Benjamin Moore.
Master Bedroom
The master bedroom has incredible ocean views and the color palette is inspired by that.
Bathroom
Great design and choices of materials.
Pool & Deck
This pool is fantastic! The interior dimensions of the outdoor room (covered patio) are 21′-0″ x 20′-3″. Just large enough to be spacious while still feeling cozy.
Shingled Style Home
Gorgeous oval windows are found in many places of this house.
Swimming at Night
Can you picture yourself here in a summer night, watching the stars and hearing the waves?
Source from homebunch.com