18 most unusual & creative plates designs through the world.
1.  By designer Angela Schwab, Benta plates transcend the limitations of a traditional plate with an unexpected upward bend that functions as a one-handed grip while also pushing food onto a utensil.  Link
2.  Food Face Dinner Plates encourage playing with your food.  Link
3.  With this plate the concept of measurement is explored in a way that creates a connection between the person and the object. For instance, when cutting cake or cheese nobody will complain about having the smallest slice.  Link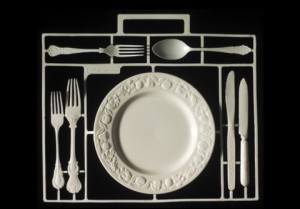 4.  By London-based product designer Demelza Hill, Snap and Dine is a single use three-course table setting that integrates disposable cutlery with traditional silverware.  Link
5.  Quirky and charming, these plates were designed to resemble conversation bubbles from manga, or Japanese comics.  LInk
6.  The A4 piece of paper is the iconic inspiration for this series of porcelain dining ware. True to its roots, the A4 dining plate measures exactly 297 by 210 millimeters across. The sideplate is based on the A5 size (210×148.5) as is the soup bowl.  Link
7.  Ami Drach & Dov Ganchrow came up the "+/- hot plate". If you connect the to an electric source, the current will run through the pattern on the plate and keep the food warm.  Link
8.  Imagine by Ken Goldman, "Fingerfood" are charming little plates with rings, especially designed for party.  Link
9.  A set of three ceramic plates that are folded like a taco shell. The way they are curved allows you to keep the plate in one hand while eating the food with the other one.  Link
10.   Named Bodylicious, it is inspired by Nyotaimori, a controversial Japanese tradition which consists of presenting Sushi on a naked woman, using her body as a tray.   Link
11.  K-wine is an elegant plate especially made for finger-food and studied to redefine the way to serve wines.  Link
12.  Change the scene and use the vinyl Air Dish instead: inflate it, use it, rinse it, fold and stow it….no bother of disposing it anytime soon.  Link
13.  Inspired from the impressions left in rock formations, Lithos presents a landscape of two shallow canyons.  Link
14.  These wonderful plates by Jamie Wieck include embossed features that make it simple to turn a plate of food into a smiling, melting face with the look of a gin-stink transient.   Link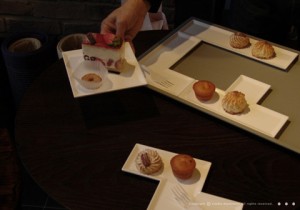 15.  This innovative Tetris style plates design by Seungyoub Oh could bring the game bricks to your dinner table.   Link
16.  The Go Plate fits over a bottle, cup or can, allowing you to eat off a dish.  Link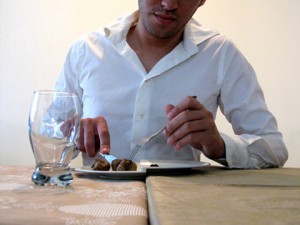 17.  "Plate For People Who Sit Between Two Tables", designed by Shira Nahon.  Link
18.  Quick…is there anything stuck in my teeth? There'll be no more embarrassing spinach tooth for you – these salad plates help keep you tidy with a built in mirror.
  Source from woohome.com